Full day outer reef snorkel Product details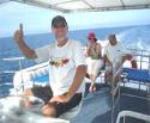 Product by:
Wavelength Reef Charters


Full day outer reef snorkel
Wavelength Reef Charters begins with a courtesy coach transfer from your accommodation to wavelength private Jetty.
On boarding at 8.15am a cup of invigorating tea or coffee awaits. Wavelength Reef Charters introduced the itinerary for the day and provide a brief introduction to the reef and a few hints on how to get the most out of your day.
Please use the Contact form on the right for Full day outer reef snorkel information and ordering.
Other Wavelength Reef Charters Products
1 listed

Second Site After morning tea and some time to reflect on the beauty of nature we move along to another one of our many sites, chosen to suit the... more »
Eco Education –
Eco –
Eco School