Grid Feed Product details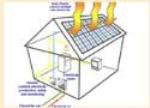 Product by:
Central West Solar


A Central West Solar's grid feed system uses electricity created by your solar panels to off-set or negate the amount of electricity purchased from your Energy seller. A Central West Solar's grid feed system does this without the need of batteries using a complicated grid interactive inverter to produce mains voltage electricity. A special meter provided by your local energy authority meters both import and export of electricity.

Currently the solar energy that is produced off-sets the amount you buy at 1:1, however, with feed in tariffs already operating in other country and soon in Australia, a premium price for your electricity would be your reward for producing clean, Green Energy. No longer do you have to live in a remote area to use solar (photovoltaic) technology.
Please use the Contact form on the right for Grid Feed information and ordering.
Other Central West Solar Products
1 listed

Traditional electric hot water systems generally make up the highest percentage of your electricity bill. ... more »
Eco Roofing –
Green Roofing –
Solar Hot Water