Halal Made Simple Product details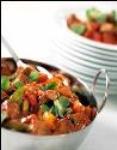 Product by:
Alternative Foodservice Magazine


Alternative Foodservice Magazine's Halal food, with its special certification and ingredient requirements, is especially difficult for kitchens not specifically set up to cater for this cuisine.
There's an extensive choice of delicious main meals options to choose from including Hickory BBQ Beef, Chicken Chasseur, Vegetable Lasagne and beef Diane.

Now foodservice specialists Pure Source have taken the guess work and frustration out of Halal food by offering an extensive range of portion controlled, pre cooked Halal certified restaurant quality meals.

All meals are produced to an average weight of 360g (portion control to ensure no wastage) and are fully cooked at Gourmet Chef Foods under license to Pure Source.
Please use the Contact form on the right for Halal Made Simple information and ordering.
Other Alternative Foodservice Magazine Products
1 listed

Fruity thirst quencher, the importer of the Belvoir range of organic drinks and cordials is launching a number of new flavors.... more »
Fruit –
Organic Fruit –
Organic Products