Hope Farm Product details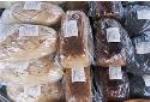 Product by:
HOPE


Hope Farm Situated in the foothills of the Baw Baw mountains, the Bakers at Hope Farm were inspired to make bread that was truly the staff of life. To create these breads we looked back to how bread was traditionally made. The two factors that we found vital in creating our breads was its simplicity of, only using Organic flours and sea salt, and secondly the passion to hand mould and prepare all our breads.

To only use organic flour and sea salt the dough had to mature slowly using a ancient sour dough process with a 24 hour fermentation process. This gives an enhanced flavour and taste of traditionally made European breads. We hope you enjoy the culinary experience of tasting the range of Hope Farm's organic sour dough breads.
Please use the Contact form on the right for Hope Farm information and ordering.
Other HOPE Products
1 listed

CARDIFFAIR DOMESTIC FAN SYSTEMS Nature provides us with our own cooling system - perspiration, shade and a breeze - to cool our bodies and give ... more »
homes –
eco homes –
air conditioning