InLiven Probiotic Superfood Product details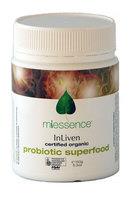 Product by:
Miessence


Our digestive system contains a highly complicated bacterial ecosystem. While some bacteria are bad, some bacteria in our body are good and stimulate the immune system and inhibit pathogens, and InLiven Probiotic Superfood takes advantage of this good bacteria.
InLiven Superfood, established on more than two decades of Eco Research, contains the complete Lactobacillus family of thirteen strains combined with twenty-six certified organic whole foods.
When consumed, the body has the ability to immediately assimilate the broad spectrum of nutrients. InLiven uses a 'superbreed' of very strong Lactobacilli formulated to reach your digestional tract intact so they can do you the maximum amount of good.
Please use the Contact form on the right for InLiven Probiotic Superfood information and ordering.
Other Miessence Products
92 listed