Jojoba Purifying Facial Scrub Product details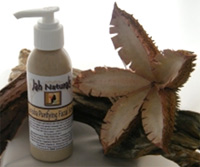 Product by:
Jah Naturals


Jojoba Purifying Facial Scrub formula blends certified organic Olive Castile, and extra gentle exfoliating Jojoba Micro-Beads to smooth away dull surface cells and impurities that clog pores and cause breakouts. Dramatically improves texture and clarity.
In addition we have added Australian Kaolin Clay & French White Argile Clay, which have been well documented for their drawing properties.
Therapeutic Essential Oils purify pores and stimulate healthy circulation for a clear and radiant complexion.
Used in conjunction with a natural and organic moisturizer for an after scrub treatment.
Please use the Contact form on the right for Jojoba Purifying Facial Scrub information and ordering.
Other Jah Naturals Products
3 listed

Oil of Delay Day and Night Creme is an exquisite, rich & satiny formulation, that melts into the skin to help prevent and repair wrinkles. Oil-of-Delay enhances ... more »
Natural Skin Care –
Organic Oil –
Eco Skin Care Products

African black soap is soft with an organic shape. It has a delicate texture and a natural, earthy smell. It is not oily, and can be used in its natural form for ... more »
Natural Skin Care –
Beauty Products –
Natural Beauty Products

Jah Naturals is one of Australia's own home grown companies leading the way in natural & organic body products and are helping pioneer the movement for ... more »
Eco Skin Care –
Environmentally Friendly Skin Care –
Certified Organic