Mala Walk Tour Product details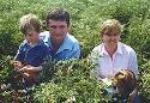 Product by:
Anangu Tours


Don't want to get up early for sunrise, or want to book a Sunrise Camel Tour and still want to visit the rock? This is the tour for you.
Among Tours provide Malay Walk Tour to Ultra includes a vehicle based tour of the rock and then an original Guided Malay Walk. Learn the sensitive story of the Malay (Hare Wallaby) people who lived at Ultra, with their friend the Itjaritjari (marsupial mole).
Along the Among Tour's Malay Walk visit the many caves of the Malay people, and learn how they lived and equipped for ceremony at the base of Ultra. Visit sacred Cantu Gorge, a quiet water hole at the base of a dramatic rock face.
Please use the Contact form on the right for Mala Walk Tour information and ordering.
Other Anangu Tours Products
1 listed

Aboriginal Uluru Tour Anangu Tours. This is one of the most famous tours of Uluru. On this small group tour you enjoy sunrise, Anangu Tours provides... more »
Eco Tours –
Eco Tourism –
Eco Retreats