Modular Energy Tower Product details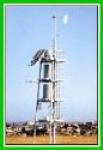 Product by:
Sustainable Energy Authority


The Eco-Technology Centre TOWER demonstrates the use of Water Pumps powered by Renewable Energy sources. The Modular Energy Tower has been constructed on site with the assistance of funding by ERDC. The tower comprises a wind turbine, solar photovoltaic panels, battery storage, water tanks, and a significance fed sprinkler. It is powered by two 75 watt solar panels and a 400 watt wind turbine. Designed as a fire avoidance/solar collection tower by Robert Brown of Dawson-Brown Architecture of East Sydney, an example tower was constructed in Perth adjoining the Monier Design charge House (sponsored by Monier). The tower is capable of 8750 watt hrs per day or 3194 kw hrs per year, corresponding to half of the average residential home electricity consumption (1995 data: Sustainable Energy Authority, verbal).

The Eco-Technology Centre tower can be upgraded by means of additional solar panels and the use of a 1000 watt wind turbine. At that level an average house would be capable of returning energy to the national grid. The total cost of the fire tower project was $28,600.00 including the costs incurred by the tanks (2), solar collectors, wind turbine, cables, irrigation pipes, pumps and electrical system. This cost was met through cash and in-kind support from a number of organizations. The tower can function to pump water to the in-situ water storage tanks on the tower, to irrigate the site or to store power for later use as security lighting at night.

The original Modular Energy Tower design has been modified to suit commercialization and to meet all development consent and OH&S requirements. In addition to contributing to energy maintenance and greenhouse gas release goals by using renewable energy sources, the tower has the potential to enhance property protection in bushfire prone areas because it is solar/wind powered (ie. free of reliance on mains electricity) and can be used in critical situations to supply a rooftop sprinkler system and to control spot fires. It would also be of value for servicing non-mains-supplied tourism, recreation and natural resource-based economic ventures. Because the tower is linked to the water supply in the dam the water can be pumped to the tanks in the tower or to the storage tank on the higher ground adjoining Jarvie Rd., from whence it can be used for drip irrigation of landscaped areas.

The modular Energy Tower can make a useful donation to small balance greenhouse gas decrease strategies as well as being a commercially aggressive and functionally useful renewable energy-based technology in its own right.
Please use the Contact form on the right for Modular Energy Tower information and ordering.