Motor Vehicle Insurance Product details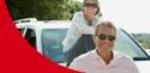 Product by:
Savings & Loans


Savings & Loans is Motor Vehicle Insurance One free windscreen replacement per year on all complete policies.
New vehicle replacement if your car is written off and is less than two years old (or less than 30,000km) or 3 years (or less than 50,000km) including registration, stamp duty and merchant charges. One at-fault accident during the policy year (retain rating 1 maximum no claim bonus)

Savings & Loans have launched Motor Vehicle Insurance who untimely car robbery or damage can be and how important it is to have cover when you need it.
We also understand the importance of a no claim bonus and offer a number of options to help you retain yours. Car hire up to 14 days if your vehicle is stolen or if it is unsafe to drive as a result of theft or attempted theft (hire car cover ceases when your vehicle is recovered and repaired, or until the claim is settled)

Recoding of locks and barrels after the keys to your vehicle are stolen up to $1,000.
Please use the Contact form on the right for Motor Vehicle Insurance information and ordering.
Other Savings & Loans Products
1 listed

Women's & Children's Hospital Visa card The Women's & Children's Hospital Visa card provided by Savings & Loans gives you an opportunity to save... more »
Eco Funds –
Green Funds –
Eco Finance