Music from the Coffee & Chocolate Lands Product details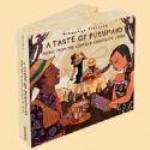 Product by:
Guilt-free Gifts


Music from the coffee & chocolate lands coffee has always had romantic quality. It has always been there in the background, like a dark liquid melody, perfuming the air with the scent of lands far away and unconstrained possibilities. So sit back, enjoy the music, and sip away.

Satisfy your musical desire with this tasteful gift set from Guilt-free Gifts. Guilt-free Gifts have a featuring of two full length CDs and a bonus sampler, its music for every palate!

This gift contains 2 CD's plus an 8 track bonus sampler fashionably wrapped in 100% Recycled Paper, with satin ribbon & approving 'plan table' gift tag.
Please use the Contact form on the right for Music from the Coffee & Chocolate Lands information and ordering.
Other Guilt-free Gifts Products
1 listed

Massage, rub, scrub or soak in some bod body and as your senses elevate, feel the moisture penetrate and nourish deep into your body.... more »
Pure –
Gift Boxes –
Eco Skin