Organic Cotton Giraffe Suit Product details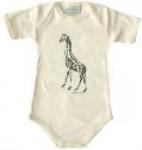 Product by:
Generation Wonder


Generation Wonder Organic Cotton agricultural is excellent for the Earth. They construct these clothes works with the atmosphere, not against it. There is no pesticide or insecticides used to develop this cotton.
From a community viewpoint, the farmers and pickers of the cotton are not exposing to destructive chemicals in the field. And the construction of these garments is completed in a moral and secure environment, which has assurance no children are used in labors.

Belle and Dean kindly allow us to reproduce this information from their site:

Generation Wonder Giraffe Grow 0-3 months

1. Organic cotton

2. Short sleeves

3. Natural organic colour

4. Giraffe print on front

5. Press stud closure

6. No fire retardants used as in man made fibres

7. Super soft fabric

8. Suits baby boys or girls
Please use the Contact form on the right for Organic Cotton Giraffe Suit information and ordering.
Other Generation Wonder Products
1 listed

Generation Wonder's Pink Angel Quilt is a beautiful quilt made for the home.... more »