Palmwood Flooring Product details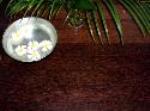 Product by:
Ecospective


Ecospective's Palmwood Flooring offers you the best quality strip-flooring boards that replicate the greatest aspect of natural palmwood. Every board has a solid piece of Timber that has been cut from the trunk of a palm tree there is no lamination complicated. These Boards are laid using a glue-down only equipment system.
It has an exclusively and striking features of the coconut palm tree are detain in every strip-board of tongue and channel floor covering. These boards are very strong with a junk hardness rating of 10, comparable to Black-butt and Brush-box. The natural boards can be completed with solid oil or enlargement support finishes. There is a pre-finished board that has an 8 covered wear-resistant covering. ENiTo Palmwood is available in 15mm x 90mm x 900mm tongue and groove boards with end identical.


Please use the Contact form on the right for Palmwood Flooring information and ordering.
Other Ecospective Products
1 listed

Natural Stone Mosaic Tiles Ecospective Mosaic is also ideal for exterior applications such as patios, garden paths and walls, Available in grey, onyx, pink, terracotta, ... more »
Eco Interiors –
Eco Tiles –
Green Interiors