Paper Making Kits Product details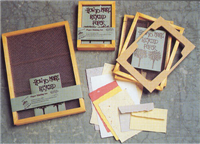 Product by:
Paper-Go-Round


Paper-Go-Round has been manufacturing paper making kits for over 25 years to our own exacting standards.
Paper Making Kits are easy-to-use for children and adults, long lasting, high quality, include full instructions, can make envelopes, are made from plantation timber and stainless steel mesh...and are environmentally positive products. Available in three sizes - A3, A4 and A5.
Please use the Contact form on the right for Paper Making Kits information and ordering.
Other Paper-Go-Round Products
3 listed

Seeded Paper wedding invitations ideal for your eco-nuptials. From invitations and place cards to ceremony booklets, menus, bomboniere and thank you cards. We also ... more »
Eco Paper –
Environmentally Friendly Paper –
Recycled Paper

  Christmas cards made from Seeded Paper - an ideal way to get a powerful environmental message across with the season's greetings.   We can produce cards ... more »
Eco Paper –
Environmentally Friendly Paper –
Recycled Paper

Paper embedded with seeds - 100% recycled paper and seeds. Made here in Australia. Printed for fliers, postcards, invitations and anything where a strong environmental ... more »
Eco Paper –
Eco Promotions –
Eco Seed Suppliers