Power Industry Product details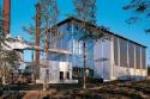 Product by:
WARTSILA


Wartsila: - It is the leading provider of power plants for decentralized power generation providing power plant solutions dependent on oil, gas and dual-Fuel engines. It has distributed power plants generating over 32,000 MW in the global market.

All of your power plant needs can be fulfill by Wartsila Australia. It can supply you with turnkey power circumstances and if required process and preservation agreements.
Please use the Contact form on the right for Power Industry information and ordering.