Radio For Kids Product details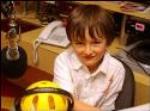 Product by:
EcoLogical


Radio For Kids: - It is a fresh monthly show as well as part of Wednesday Breakfast. It shows a tune on the 1st Wednesday of the month at 7.15am. The main feature of it is that it is for young people from primary age to their mid teens consulting regarding the local community activities and ecological subject

Its main objective is to construct links with primary and secondary schools by providing training kids to construct their own community interest segments and present affairs. It wants to hear from any kid who would like to contribute. All kids should be accompanied at all times by an fully developed family member.
Please use the Contact form on the right for Radio For Kids information and ordering.
Other EcoLogical Products
7 listed