Rainwater Sampling Product details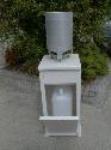 Product by:
Ecotech NSW


Ecotech NSW series 200 Rainwater sampler: - It is exclusively manufactured for acid Rain research.

Following are the important features of Ecotech NSW: -

1) Motor driven lid has an exclusive seals to eradicate dry authentication of dirt and gases on the time of dry periods

2) Automated tipping container precipitation determines the indication of lid to open and instigate rainwater sampling.

3) A static material used on sample collection and storage make sure no change is sample composition.
Please use the Contact form on the right for Rainwater Sampling information and ordering.
Other Ecotech NSW Products
1 listed

The Ecotech NSW Ambient Air Monitoring System is designed to provide high quality air pollution and meteorological data.... more »
Australia Green Companies –
Green Companies –
Eco Companies