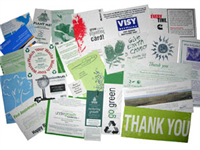 Product by:
Paper-Go-Round


Paper embedded with seeds - 100% Recycled Paper and seeds. Made here in Australia. Printed for fliers, postcards, invitations and anything where a strong environmental message is required.
Ideal for corporate promotions to make a unique and memorable communication. A great way to stand out from the crowd in a powerful and novel way, having significant impact of the "wow factor" for a green message.
Fliers, postcards, invitations, swing tags, coasters, bookmarks, menus and greeting cards are just some of the items we produce.
Please use the Contact form on the right for Seeded Paper information and ordering.