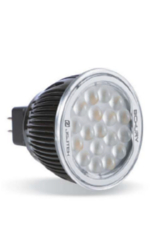 Product by:
Todae


Todae's leading LED downlight, the StarLux12v MR16 LED downlight, is a cost effective and easy way to reduce your carbon footprint and save on your power bills. It uses approximately 10% of the energy of a 50 watt halogen downlight (saving up to 90% of your lighting costs) and can pay for itself in one to two years.
The Starlux light is made in Korea by one of the world's leading LED light technology companies and Starlux is the name that Todae gives this range for the Australian market.
The Todae Starlux LED emits a similar amount of the light to a standard 50 watt halogen globe and can be fitted in seconds (with a compatible transformer in place).
The warm white Starlux Downlights come in two different beam angles: 80° and 50°. The 50° beam angle is more suited to high ceilings as it ensures that the light doesn't lose its brightness as it is dispersed around the room, while the 80° beam angle is excellent for lower ceilings as it light stays bright as it is fills the room.

With a lifespan of approximately 50,000 hours (50 times longer than a halogen), the light bulb will pay for itself and then continue saving you money on power bills.
How do I know whether this bulb is compatible with my downlight fittings?
This is an MR16 fitting - with two sharp pins on the base. If your current bulbs have thick cyclinger shapes on the end of the pins, it is a GU10 fitting.
All MR16 12v bulbs require a transformer.
Transformer compatibility: The StarLux is compatible with most downlight transformers, but may not work on some. Please be aware that to achieve the maximum Energy Efficiency, cost savings and life-span from an LED bulb, LED specific transformers should be used. They do use less energy and run cooler than standard halogen transformers.
We highly recommend the Redback transformer for use with the Starlux. Note that transformers must be installed by an electrician.
Features:
Bright enough to directly replace a normal 50w halogen down light - although for some the lights do not give 1:1 replacement. Please read the Reviews for feedback from users.
Easy socket drop-in into 12v MR16 Halogen lamp fitting (two sharp pins)
80 degree wide beam spread
Low heat
Long lifetime - lasts an amazing 50,000 (50 times a halogen)
The Starlux is not dimmable and will flicker with some older transformers.
Specifications:
Rated output of 4.5W (but depending on your transformer the Starlux can use up to 6w)
Wide beam spread of 80-90 degrees
Heat proof housing to prevent from overheating
Dimensions: 50 x 45 mm (similar to a standard MR16 halogen bulb)
Operating temperature: 60 - 68 degrees Celsius
Colour temperature of 3000K-3200K
LUX: 350 lumens (this is based on the lumen per watt rating with a wattage usage of 6 watts - 290Lms at 4.5 watts)
Benefits:
Have you noticed the heat from the "toasters" in your ceiling? That's the transformers powering the halogen bulbs. LED's reduce the heat output.
Help reduce global warming.
With the reduction in your energy bill, the StarLux usually pays itself off within 1 - 2 years.
Stop continually replacing your downlights.
The Todae view:
We rate the StarLux as our best LED downlight and it is one of our best selling products. At an excellent price the StarLux is an affordable LED lighting solution that will save you money. In our view, there is no better way to save money and reduce your energy usage.

Please use the Contact form on the right for StarLux MR16 LED Downlight bulb 4.5W information and ordering.