Sunset Cruises Product details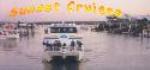 Product by:
Whalesong Cruises Hervey Bay


Following are about sunset cruises: -

1.Whale-song Cruises Harvey Bay's is include on one of the few Places on the east coast of Australia were you can take pleasure to see the sun set over ocean.

2.All there cruise have scrumptious finger food contained and there bar is well stocked.

3.Take some gorgeous views of Point Vernon, the Urangan pier and the magic waters of the Great Sandy Straits.

4.For charters they can offer wide-ranging menu selections and can supply for all tastes at the bar with a little notice.

5.Whale-song cruises Harvey Bay which gives the chance to public sunset cruises on the time of holiday and for only charters (20 people or More) all year round.

6.If you are really lucky then sometimes sunset may match the phases of the moon you can be enjoy to see it. This is to special to view when moon come up over Fraser Island.

7.The attractiveness of a sunset cruise is the capability to have sufficient light to take in the Great Sandy Straits and Fraser Island whilst glance out for its many marine inhabitants such as dolphin, turtles and dugongs.
Please use the Contact form on the right for Sunset Cruises information and ordering.
Other Whalesong Cruises Hervey Bay Products
1 listed

Extended Charters Mv whalesong makes a wonderful house boat for extended charters. World heritage listed... more »
Boats –
Eco Cruise –
Eco Cruises