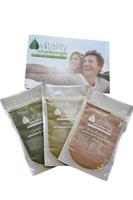 Product by:
Miessence


Experience our potent, raw, Vegan, certified organic superfoods today, as they can make a huge and wonderful difference to your vitality and well-being. The Superfood Vitality Challenge Pack launches you into a ten-day journey with Health Food, as you discover changes to your body, energy levels, your well-being, and your mind.
The Vitality Challenge kit contains a ten day supply of BerryRadical Antioxidant Superfood, and also a ten day supply of DeepGreen Alkalising Superfood.
The kit also contains an InLiven Probiotic Superfood and a 20 page Vitality Challenge book including self-assessment guide, detox guide and extra bonus recipes for delicious and nutritious Smoothies.
Please use the Contact form on the right for Superfood Vitality Challenge Pack information and ordering.