Systems For 100Mm, 150Mm, 200Mm, 250Mm & 300Mm Pipes
Systems For 100Mm, 150Mm, 200Mm, 250Mm & 300Mm Pipes Product details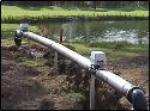 Product by:
Hydrosmart International


Hydrosmart International's Pipes bigger than 80mm have need of 2 or 3 Hydrosmart units fixed so the antennae are between 5 and 15 meters individually.
These systems can be supplied as pre-assembled person time period to be interrupt to existing pipes or they can be wound directly onto existing pipes so that there is no disruption to the flow.
Please use the Contact form on the right for Systems For 100Mm, 150Mm, 200Mm, 250Mm & 300Mm Pipes information and ordering.
Other Hydrosmart International Products
1 listed

Hydrosmart International's Digital 20 comes pre-assembled on a 20mm copper pipe loop. Applications include: Domestic, low ... more »
Sustainable Irrigation –
Chemical Free –
Sustainability