Tape Dispenser Product details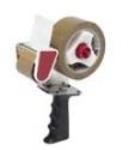 Product by:
Hire A Box


Many people don't realise the amount of energy and time spent to tape a bunch of Boxes, so Hire A Box offers hiring of simple to use tape Dispenser for only $5.50 each for a fast and smooth taping process.
You can always buy one instead of renting it for only $8.80.
Please use the Contact form on the right for Tape Dispenser information and ordering.
Other Hire A Box Products
1 listed

Portable Wardrobe Hire A Box is best thing since bread. Great way to move your haning clothes and protect them during transport. Hire A Box the ... more »