Tracking Systems Product details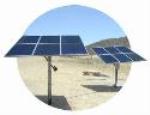 Product by:
BW Solar


BW Solar's Bruno was designing tracking arrays as early on 1990 and it was a modernizer in this pasture in Australia. Energetic or electronic tracking arrays are now replacing windmills all over Australia as a more efficient choice energy source on non grid fed rural properties.
Since 1990 Bruno has industrialized this expertise to that location where his 5 Star Trackers are so essential to assemble they can furthermore be throwing away as DIY kits that do not require any special tools.

B/W Solar has invented a fresh tracking controller which reduces the requirement for LDR's. This new design used on electronic timer which facilitates the solar array to track the sun support on the instance of day.
Please use the Contact form on the right for Tracking Systems information and ordering.