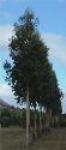 Product by:
TreeSmart Australia


TreeSmart Australia
TreeSmart Australia's sources its eucalypt agricultural estate in three main ways:
a) TreeSmart plantations
b)
Farm
Forestry
cooperatives
c) Private farm forestry plantations
TreeSmart plantations: - Agreement of the TreeSmart Australia's are penetrate into with personal farm foresters, which is working without help or through a farm forestry cooperative, who obligate to management and harvesting practices which preserve appropriation post-harvest. Thus, plantations will normally be conventional for the function of sawlog harvesting and/or fuelwood creation. While the forester will require situating their harvesting purpose before entering into the TreeSmart agreement, they will be free to extract from the agreement at the end of every year of the agreement, they agree to offer & sustain the
Carbon
previously appropriate in the trees, on the exchange of timber products or fossil fuel.
Please use the Contact form on the right for TreeSmart Plantations information and ordering.