Trekka Series Product details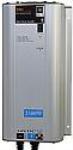 Product by:
Solar Energy Australia


At last a lightweight Sine Wave Inverter with outstanding performance.

The Solar Energy Australia's Trekka series have elevated frequency switching (switch mode) which has the features like: - It is providing you big power output from a smaller, go-any where lightweight unit.

Featuring which is groundbreaking on solid state technology, the Trekka has none of the alteration, hum and loss associated with further lightweight inverters.

The grid worth sine wave productivity which is exceptional and make sure to you that you will have no compatibility problems with your appliances. Process is whisper quiet.

The Solar Energy Australia's Trekka is wonderful for all applications, where size and weight are significant and high rush is not necessary- power tools, bread producer and many different small appliances.
Please use the Contact form on the right for Trekka Series information and ordering.
Other Solar Energy Australia Products
1 listed

Solar Grid Feeding System For many years people have been searching for a cleaner, more sustainable alternative to the present from of electricit... more »
Solar Green Eco Energy –
Energy –
Green Energy