Under Floor Heating Product details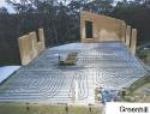 Product by:
Carman Heating


Carman Heating's Under floor heating uses heated water running through the poly pipes entrenched in the floors of building's existing slab to create comfortable floor heating.
The pipe is laid in the floors before the concrete is poured in the floors and once encased is maintenance free. Around 800 meters of pipe is coiled in the concrete slab of an standard- sized house with 100 liters of heated water circulating to offer gentle, even heat. Carman Heating Concrete floor Heating's fuel source is based via gas (natural or LPG), wood, electricity, oil or solar, according to accessibility and client choice.
Please use the Contact form on the right for Under Floor Heating information and ordering.
Other Carman Heating Products
1 listed

WOOD CENTRAL HEATING Carman Heating are a specialist in wood fired boilers and cookers and has extensive experience in installation, maintenance... more »
Wood –
Eco Heating –
Green Heating