Wastewater Treatment Product details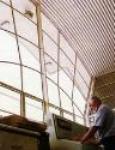 Product by:
Environmental Management Pty Ltd


North East Water treatment plants vary from lagoon-based treatment systems in the small hamlets of Barnawartha and Bundalong, to recent tertiary handling plants at Wangaratta, Wodonga and Mt Beauty.
The performance of our handling plants is constantly monitored and North East Water grasps waste ejection licenses for all of its 19 wastewater handling plants. These licenses position elsewhere for monitoring and reporting requirements, restrictions for discharging to both water and land, and Environmental Management requirements. All wastewater sewage discharges are sampled and tested for various parameters on a monthly source to monitor agreement with Environmental Protection Authority (EPA) discharge license circumstances. The results of this monitoring are enclosed in the Annual Performance Report that is submitting to the EPA yearly in August.




Please use the Contact form on the right for Wastewater Treatment information and ordering.
Other Environmental Management Pty Ltd Products
10 listed