World Environment Map Product details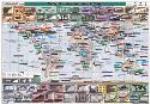 Product by:
World Environment Day


The World Environment Map, aims to increase awareness and knowledge of the environment and Environmental Issues and comprising between both spatial element and non-spatial element (accompanying charts and tables), across the World. It presents information in a simply digestible Form on a variety of indicators of performance and environmental health in selected countries even as highlighting both concern and areas of achievement.

The World Environment Map is a resource for all those with an interest in the environment - students wanting information about major environmental issues facing the world and initiatives for overcoming them and including professionals wanting a ready reference for key environmental trends, statistics and noteworthy events.




Please use the Contact form on the right for World Environment Map information and ordering.
Other World Environment Day Products
1 listed

Caldera Environment Centre organized World Environment Day event which was held in Knox Park, Murwillumbah.... more »
Environment –
organisation –
conservation