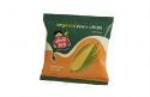 Product by:
Whole Kids


Whole Kids Organic Cheese Corn Chips are physically prepared from stone ground wholegrain organic corn. It has a Rich in dietary fiber and full of cheesy crunch, they've taken out all the junk but reserved all the good stuff in.

1) Nut free,

2) Gluten fee,

3) Egg free,

4) MSG free.

They do not use nature identical flavours. Just the good stuff and just the way we like to make them.

Following are the Ingredients Made in a nut free environment: -

1. Stone ground organic corn (70%),

2. Organic non-hydrogenated palm oleil oil,

3. Cheese flavour

i) Dairy solids,

ii) Salt,

iii) Hydrolysed soy proteins,

iv) Vegetable powders,

v) Sugar,

vi) Natural flavouring,

vii) Maltodextrin,

viii) Malic acid,

ix) Magnesium carbonate,

x) Herbs,

xi) Spices,

xii) Yeast extracts.

Whole Kids Organic Cheese Corn Chips are certified by the Biological Farmers' Association, so you can be sure your kids are consumption the most natural corn chips existing free from pesticides, herbicides and synthetic nastiest.
Please use the Contact form on the right for organic cheese corn chips information and ordering.