Ancient Spice Roll-on Deodorant Product details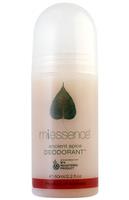 Product by:
Miessence


You can stays naturally fresh all throughout the day with our Ancient Spice Roll-on Deodorant. It is designed and constructed through an effective formula, even for the most active and sweaty people.
There are no aluminium compounds or chemical antiperspirants. The Eco Deodorant is based on the traditional remedies of bicarbonate of soda to get rid of odours and aloe vera to soothe.
Please use the Contact form on the right for Ancient Spice Roll-on Deodorant information and ordering.
Other Miessence Products
92 listed