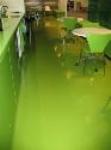 Product by:
Sustainable Building Systems


Dalsouple present the uppermost class, environmentally-friendly and sustainable elastic rubber floor tiles.
Over 80 customary colours but you can also prefer any pantone colour. 33 Textures. No least order. 10 year guarantee.
The rubber is composed from rubber trees in Indonesia or Vietnam and transported to be produced in France.
95% of all our goods are existing in natural rubber. We resolutely trust that our goods are on the whole environmentally-friendly and sustainable flexible floor covering in the world.
Dalsouple has an attractive online design service that lets you plan your own floor covering tiles to your own colour glasses at no additional cost. It is anti cigarette burn, anti-slip, anti-static, sound engrossing, rough and trouble-free to preserve. And it approach with a 10 year assurance.
Please use the Contact form on the right for Dalsouple information and ordering.