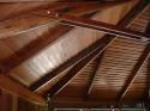 Product by:
Australian Architectural Hardwoods


Floorboards: Australian Architectural Hardwoods produce unusually wide floorboards; up to 320mm cover. Normally milled to a reversible tongue and groove profile they come in three thicknesses:
26mm or even thicker. Can be laid on wide joist spacings.
18-22mm thick. To be nailed or screwed to joists.
12mm thick. To be fixed to ply or particleboard with non-water based glue.
Our production processes allow us to supply floors where the moisture content is to your specification. Australian Architectural Hardwoods give guidance in this area to ensure timber stability.

Lining Boards: Are also available in a variety of widths up to 250mm. We supply various profiles including the fully reversible tongue and groove v joint.
Timber Bench Tops: Are produced from wide board laminations from thoroughly seasoned timber. Each lamination is generally between 150mm to 200mm wide. Naturally each one is unique and will give your home a warm yet sophisticated feel. These bench tops look great in your kitchen, study, laundry or bathroom.

Laminated Beams: Arched or straight beams fabricated to your specifications.

Stair Treads: Treads, stringers and rises available in a variety of sizes and specifications.

Timber: A huge cross section of timber is generally available to suit a variety of structural, architectural or interior decoration requirements.

Trusses: Heavy trusses and engineered structures.

Joinery and Furniture Sections: We take pride in the various products we supply to the precision carpentry and joinery industries.

Structural Timbers: Long lengths and with large cross sections.

Large Posts and Beams: Available in long lengths.

Decking: Durable recycled timbers, wide board and standard sizes available.
Please use the Contact form on the right for Hardwood Products information and ordering.