Lip Cremes Product details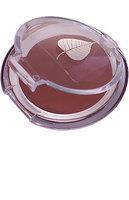 Product by:
Miessence


Our Lip Cremes offer a creamy matt formula with highly intense natural colour mixtures of pure mineral pigments, otherwise known as iron oxides. They come in a convenient clasp compact for fingertip or brush application. The lip cremes are Infused with the delicate aromas of vanilla and honey.
We have a variety of lip cremes here at Miessence. We have paprika, which is a warm rusty red colour. We also have melon, a warm orangey pink, and cinammon, which is a cool brown.
Our Lip Creme Skin Care Products also come in nutmege, with a cool belge colour, and a plum kind which is a cool browny red.
Please use the Contact form on the right for Lip Cremes information and ordering.
Other Miessence Products
92 listed