Miessence Mint Toothpaste Product details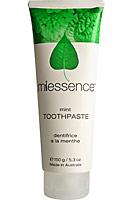 Product by:
Miessence


Our Mint Toothpaste is not crafted from any artificial colours, flavourings and also does not contain any fluoride, aluminium or detergents. Indeed, all Miessence toothpastes contain just Natural Ingredients.

The top of the range toothpaste features the fresh taste of spearmint and peppermint along with the cleaning power of bicarbonate of soda and the astringent and antiseptic properties that are in the Oils of cinnamon leaf and clove bud.
Please use the Contact form on the right for Miessence Mint Toothpaste information and ordering.
Other Miessence Products
92 listed