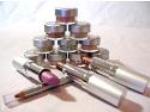 Product by:
Earthy Essences


Pure energetic pure mineral powders. Products in our range are perfect for people with allergies or responsive skin as they do not contain any fillers, talc dyes fragrances or perfume.
Each shade is multi dimensional that humans they are simply beautiful in the daylight and stunning in the sunshine, as they include of several different shades. When applied dry you can use these powders as eye shadow, lip color or blush.
Plus to complete your look why not create a nail color by using a clear nail varnish with your favorite mineral mica. Organize a simple eyes liner with your favorite granite mica color, move smoothly across the eye lids and the line should stay put all day and night and this on your eye brows.
Our tips and tricks page for more information. Some of our micas are shimmer, others matte and all are simply beautiful! As with all Earthy Essences Products, a little goes a very long way.
Please use the Contact form on the right for Mineral Shadows & Liners information and ordering.