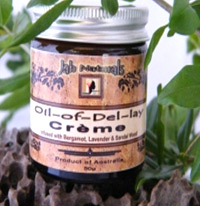 Product by:
Jah Naturals


Oil of Delay Day and Night Creme is an exquisite, rich & satiny formulation, that melts into the skin to help prevent and repair wrinkles. Oil-of-Delay enhances collagen quality and quantity while nourishing the skin with a potent complex of natural & organic anti-aging ingredients.
Jah Naturals Oil-of-Delay Crème is made up of nature's own pure vegetable Oils and (Community Trade) Unrefined Shea Butter which has been proven to maintain the skin's natural elasticity whilst providing well needed nourishing vitamins A, E, & F that are essential for good skin balance.
Over 50% Aloe Vera Gel is used in this formulation for replenishing the lost moisture in your skin to help maintain a youthful appearance, and prevent signs of premature aging caused by the elements.
Soften and protect your skin all over.
Please use the Contact form on the right for Oil of Delay Day and Night Creme information and ordering.