Probiotic Skin Brightener Product details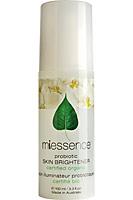 Product by:
Miessence


You can help to restore what the problems of time, stress and the environment have taken away from your skin with our special Probiotic Skin Brightener. This Environmentally Friendly Skin Care product contains probiotic bacteria ferment organic whole grains and legumes which release nutrients to create a naturally occurring, extremely mild, lactic liquid.
This kind of Natural treatment is known to restore and defend the skin's acid mantle, lighten and also brighten the complexion, improve photodamaged skin, exfoliate dead skin cells for a smoother, less-wrinkled appearance.
Please use the Contact form on the right for Probiotic Skin Brightener information and ordering.
Other Miessence Products
92 listed