Reflect Outdoor Balm Product details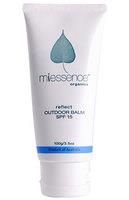 Product by:
Miessence


Whether it's at the beach or on the ski slopes, the sun can be harsh on our skin, so protection is critically needed. Reflect Outdoor Balm is ideal for this because it contains natural minerals rather than dangerous chemicals.
The balm contains ingredients such as microfine zinc oxide which offers defence from harmful ultra violet rays whilst Organic olive oil keeps the skin supple.
Please use the Contact form on the right for Reflect Outdoor Balm information and ordering.
Other Miessence Products
92 listed