Resource Management and Environmental Impact Assessments Product details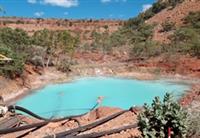 Product by:
Natural Resource Assessments Pty Ltd


Here at NRA, we have many environmental services - from resource management to environmental impact assessments.
When it comes to resource management, we provide a detailed compliance report and we will also effectively manage all of the approved processes for our clients. We are very experienced and skilled in identifying practices that will avoid unnecessary impacts and expensive remediation.
When it comes to doing an Environmental Impact Assessment, we are specialists in this field. We know that the process of predicting, describing and confirming the impacts are primary and crucial to a successful project. We feature practical experience and we are always underpinned by scientific rigour. Our professional code is to use science to produce creative and practical solutions that will be delivered on time and on budget.
Please use the Contact form on the right for Resource Management and Environmental Impact Assessments information and ordering.