Shape Hair Styling Gel Product details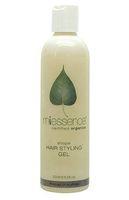 Product by:
Miessence


With our Shape Hair Styling Gel, you can condition, protect and nourish the hair while also styling it in the way you choose. Panthenol provides long lasting moisturisation, imparts lustre and conditions the hair.
It contains Natural Ingredients such as organic rosehip oil, which restores the lustre and moisturises dry and damaged ends, while our combination of organic herbs treat your hair and scalp.
Please use the Contact form on the right for Shape Hair Styling Gel information and ordering.
Other Miessence Products
92 listed