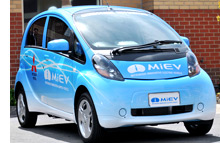 Product by:
i-MiEV Innovative Electric Vehicle


The i-MiEV Innovative Electric Vehicle has Zero CO2 Driving Emissions and is the Sustainable Future Car.
The European-styled MY12 i-MiEV's exterior features a large rear bumper which adds a stylish finish and complements the vehicle's smooth lines. Rear passenger privacy glass provides enhanced occupant comfort and the heated driver's seat is the ultimate luxury in cooler climates. Auto lighting control, multimode keyless entry and front and rear power windows complete the overall i-MiEV experience.
The i-MiEV's spacious interior comfortably seats four and offers a host of features including leather wrapped steering wheel, air-conditioning, AM/FM radio and CD tuner, MP3 compatibility and Bluetooth hands-free phone operation.
Customers looking for extra convenience can choose to add the optional AVN package which includes DVD-Video, a seven inch wide-screen monitor, navigation, GPS traffic updates and built-in Bluetooth wireless technology. The optional AVN package has a recommended retail price of $2000.
Mr Nishina said there had been strong interest from the public since the i-MiEV officially went on sale. A car with Zero CO2 Driving Emissions is a Sustainable Future Car and has a place in our society heading towards a sustainable future.
Considering that about 95 per cent of commuters in urban Australia travel less than 100 kilometres per day, the i-MiEV is perfect for environmentally-aware city commuters, who want a stylish, zippy vehicle. We are pleased with the level of enquires we have received from customers wanting to test drive or find out more about the i-MiEV," Nishina said.
The i-MiEV is available in six colours; White, Black, Cool Silver, Ocean Blue, Raspberry Red and Titanium Grey.
The Mitsubishi i-MiEV is available from selected Mitsubishi dealers in all capital cities.
Mitsubishi Motors Australia Limited recommends that the i-MiEV electric vehicle always be charged using renewable or green energy.
For a test-drive of the i-MiEV or for more details on this Zero CO2 Driving Emissions and sustainable future Car, please use the contact form at the top right-side of the page.
Please use the Contact form on the right for Zero CO2 Driving Emissions and Sustainable Future Car information and ordering.