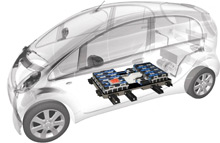 Product by:
i-MiEV Innovative Electric Vehicle


Mitsubishi's i-MiEV electric vehicle sparks public interest. The i-MiEV is Australia's first volume-produced Electric Car
Mitsubishi's all-electric i-MiEV city car is now on sale to the Australian public.
The model year 2012 i-MiEV combines performance and comfort with the latest electric vehicle technology to provide a sustainable transport solution now and in the future.
The i-MiEV, which stands for Mitsubishi Innovative Electric Vehicle, first arrived in Australia in July last year, when 110 were leased to local, state and federal governments and selected innovative organisations.
The i-MiEV went on sale to individuals in September this year, making it the first volume-produced, fully electric vehicle for sale in Australia. MMAL's president and CEO, Genichiro Nishina, said the recommended retail price of $48,800 gives Australian consumers the opportunity to own the latest EV technology while reducing their carbon footprint at an affordable price.
The MY12 i-MiEV includes additional features over the previous model, boosting the vehicle's occupant safety and comfort levels.
With a four-star ANCAP safety rating, the i-MiEV offers comprehensive safety features including driver, front passenger, side and curtain SRS airbags. The addition of Electronic Stability Control to the previous model's Active Stability and Traction Control and braking system helps the i-MiEV maintain traction on slippery or rugged surfaces and ensures stability and prevents loss of control when cornering.
The In-Cable Charging Circuit Interrupt Device provides an extra safety precaution when recharging and the vehicle is secured by the MiEV OS (MiEV Operating System), an advanced integrated vehicle management system that will instantly shut down all high voltage electric system should an impact occur.
i-MiEV Innovative Electric Vehicle is not a hybrid - the i-MiEV is Australia's first volume-produced Electric Car. For more details on the i-MiEV, use the form at the top of the page.
Please use the Contact form on the right for i-MiEV - Australia's first volume-produced Electric Car information and ordering.