Balancing Moisturiser - normal or combination skin
Balancing Moisturiser - normal or combination skin Product details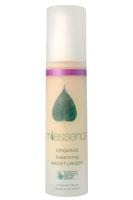 Product by:
Miessence


Our Balancing Moisturiser for normal or combination skin offers a creamy moisturiser with significant and lasting effects on skin hydration and smoothness. Crafted with plant phospholipids, organic seed butters and oils as well as organic herbs and flowers, this Ethically Produced Skincare product is built to maintain healthy skin.
It also consists of a diversity of other Natural Ingredients such as organic rosehip seed oil, jojoba, calendula, chamomile, olive leaf, marshmallow and lavender.
Please use the Contact form on the right for Balancing Moisturiser - normal or combination skin information and ordering.
Other Miessence Products
92 listed