Firming Eye and Neck Serum for Crow's Feet and the Eye and Neck Area
Firming Eye and Neck Serum for Crow's Feet and the Eye and Neck Area Product details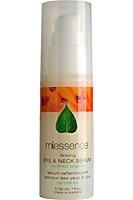 Product by:
Miessence


Our Firming Eye and Neck Serum helps the delicate areas around the eye and neck areas, which sometimes can become traitors to our age. This Green Skincare product has the role of softening, smoothing and moisturising those areas as to restore them back to health.
With Natural Ingredients such as organic rosehip seed and avocado oil, the serum tones and firms the body's largest organ with organic nettle, horsetail, hops and olive leaf extracts. It also assists in diminishing fine lines, wrinkles and crow's feet.
Please use the Contact form on the right for Firming Eye and Neck Serum for Crow's Feet and the Eye and Neck Area information and ordering.
Other Miessence Products
92 listed