Garnet Exfoliant for Normal Skin Product details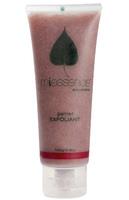 Product by:
Miessence


The Garnet Exfoliant is your brand new favourite Natural Skincare exfoliant. The polished alluvial garnet works in a highly effective manner to rid of congestion resulting from a build-up of dead, dry surface skin cells.
Unlike nut and seed-based exfoliants with their rough edges and uneven size, polished alluvial garnet does not abrade. This favourite of ours also features a fresh citrus mixture of organic lemon, bergamot and orange that will do wonders for Eco Skin.
Please use the Contact form on the right for Garnet Exfoliant for Normal Skin information and ordering.
Other Miessence Products
92 listed