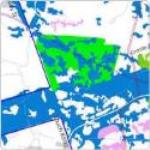 Product by:
Environmental Management Pty Ltd


Updated Lower Hunter Central Coast Regional
Environmental Management
Strategy Vegetation Mapping (2002):
Arcview GIS and C-plan software were used to identify the irreplaceability of individual planning units across the region. A number of
Conservation
scenarios were identified that formed the basis for the preparation of a comprehensive biodiversity strategy.
Habitat Modelling for Paralucia spinifera (Purple Copper Butterfly):
Carried out spatial statistical modelling using Arcview GIS to generate a habitat potential model. This included collation of existing siting information for the species and generation of Generalised Linear Models (GLM) and Generalised additive models (GAM) to produce a refined dataset and high quality maps of potential species distribution.
Spatial Data Strategy for NSW Marine Parks Authority:
Included the analysis of current systems and recommendations for implementation of efficient spatial information management frameworks across the Authority. This included consultation with key personnel and development of effective data management structures
Please use the Contact form on the right for Gis Projects information and ordering.