Purifying Skin Conditioner for Oily and Problem Skin
Purifying Skin Conditioner for Oily and Problem Skin Product details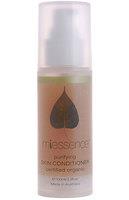 Product by:
Miessence


You can restore your skin's Natural balance with our Purifying Skin Conditioner, if you have oily or problem skin. The conditioner is a balancing infusion with Organic echinacea, witch hazel, burdock and plantain and vitamins.
This special mixture is known to assist tighten and tone the skin while it clarifies and purifies the complexion. You can enjoy fresh savings if you buy our purifying skin Eco Conditioner as part of a Skin Essentials package.
Please use the Contact form on the right for Purifying Skin Conditioner for Oily and Problem Skin information and ordering.
Other Miessence Products
92 listed