Rejuvenating Mineral Mask for Dry and Mature Skin
Rejuvenating Mineral Mask for Dry and Mature Skin Product details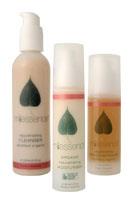 Product by:
Miessence


Purchase our Rejuvenating Mineral Mask today to discover the amazing difference it makes to your skin. Featuring natural white clay, organic horsetail and nettle, this one of a kind mask assists in the renewal of the skin's surface, promoting a smooth, clear texture.
From Biological Farmers of Australia, the Mask uses Natural Ingredients to work with the skin, and is one of our most unique Natural Skincare products.
Please use the Contact form on the right for Rejuvenating Mineral Mask for Dry and Mature Skin information and ordering.
Other Miessence Products
92 listed