Soothing Couperose Gel for Broken Capillaries and Redness
Soothing Couperose Gel for Broken Capillaries and Redness Product details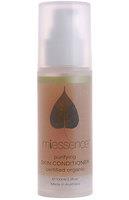 Product by:
Miessence


You can restore natural freshness and evenness to your skin with our Miessence Soothing Couperose Gel. It is a strong treatment for sensitive skin with highly soothing Organic plant extracts.

It contains a range of Natural Ingredients including fortifying and toning horsechestnut, soothing St John's wort, calming chamomile and astringent and toning witch hazel. This mixture of products creates a Gel that will help lower a red blotchy appearance.
Please use the Contact form on the right for Soothing Couperose Gel for Broken Capillaries and Redness information and ordering.
Other Miessence Products
92 listed